Skip to content
The Melina Michelle Edenfield Foundation
Choose Joy!
Events

2022 Choose Joy Virtual 5K!
October 1, 2022

-

October 30, 2022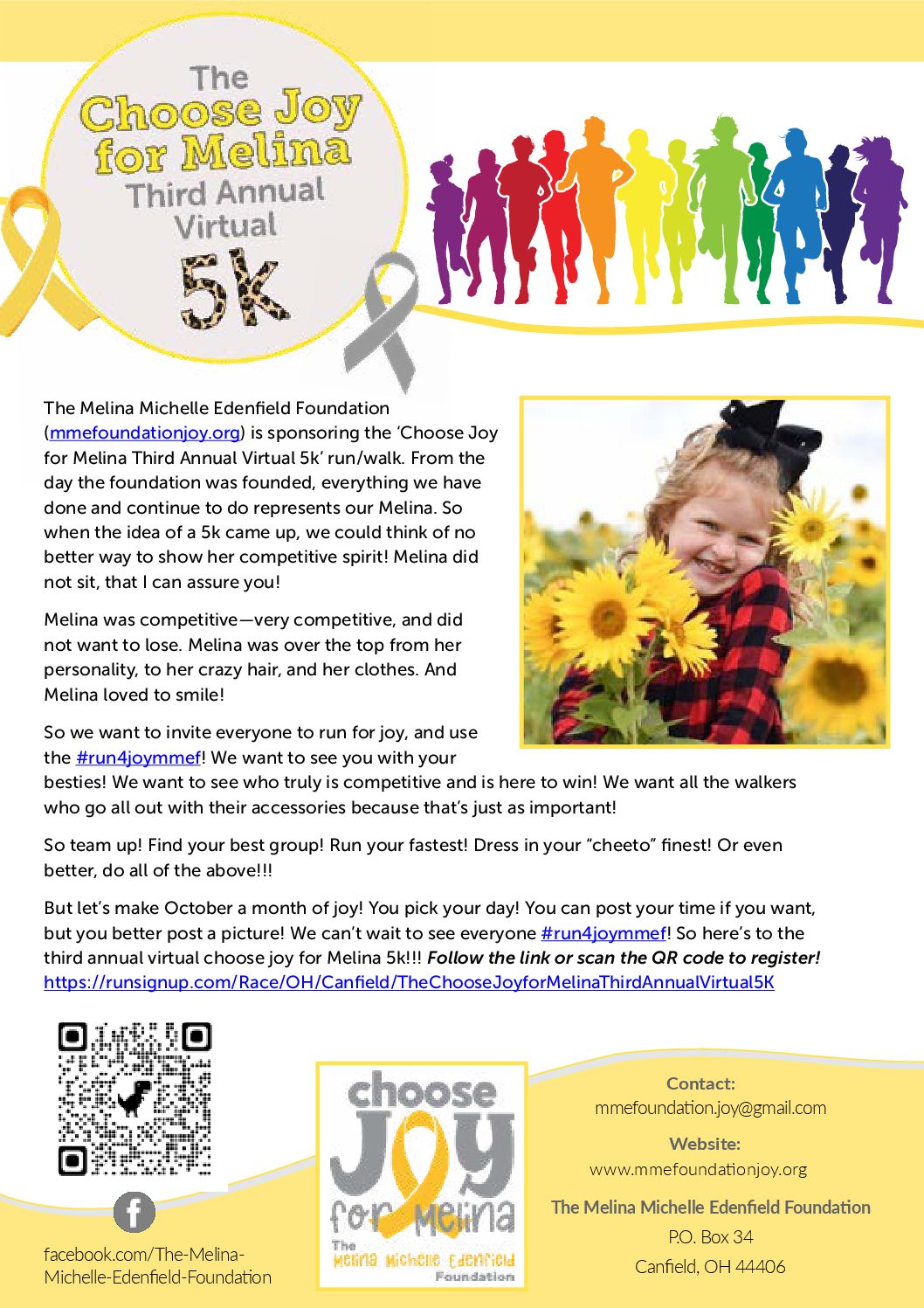 How do I register and what does it cost?
The cost is $30.00 for adults and kids (which includes a shirt and cape) or you can choose the $15.00 option for kids which includes the cape only. Register for the 5k!
What do I get for my registration?
Your registration fee includes a race tshirt, goodie bag, Second Sole race bib, and contribution toward helping to find a cure for childhood brain cancer by "Choosing Joy for Melina."
Where do I pick up my race packet?
You have the option of picking up your goody bag at Second Sole in Boardman on Saturday, October 1st from 10am-1pm or you can choose to have your goody bag shipped to you for $10 (select shipping during registration).
Where do I run or walk my 5k?
Anywhere! Be creative – you can complete your 5K in your neighborhood, the park, or even on a treadmill. Run or Walk! Choose Joy!
How long do I have to submit my time?
You may submit your time between the dates of October 3rd-October 31st, 2022
How do I submit my time?
Simply submit your time to josh@secondsoleohio.com and he will upload it for you. If you run a faster 5K time at any point thereafter, you may resubmit your time to be updated.
Do I need to submit proof of my time?
No. This virtual event is honor-based. We hope that everyone is truthful when submitting times, although we will monitor times as they are uploaded.
Are there awards?
We will be offering fun awards that reflect Melina's personality and passions. More information to come! However, all profits from your race registration and/or donation will be donated to the Melina Michelle Edenfield Foundation to help find a cure for child brain cancer by "Choosing Joy for Melina."
Thank you for your support.  For questions or concerns please email mmefoundation.joy@gmail.com